Designer Spotlight:  Deanna's Interior Designs
Venue at Woodlands, Manchester Township, NJ
Photography credit: Linda McManus Images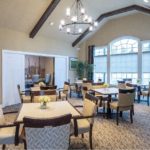 The Venue at Woodland located in Manchester Township, NJ is redefining the 55+ active adult luxury community. This is not the traditional community club house. Stylish, warm and inviting details transform a community space into an extension of the home. Deanna Lorenti of Deanna's Interior Designs was inspired by the community's name "Woodlands" and the surrounding tree-filled landscape. By employing pops of spring green as an accent color among the dark wood tones of the furniture, flooring and high wood ceilings Deanna infused the open interior with elements from the outdoors with a contemporary twist. The inspiration of nature is reflected in the selection of Jasper Chairs Koko series chairs and barstools. Blending the warm dark wood with the comfort of upholstered seating, the Koko series with its sleek and simple design is the picture-perfect choice in this upscale and modern community.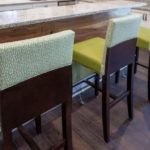 The gorgeous details continue to the tables by Table Designs. Once again Deanna incorporates a mix of materials to balance warmth and character. The selection of Corian and wood edge tables enhances the modern-meets-traditional vibe. The durability of solid surface and laminate is exactly what is needed in this active multi-use space.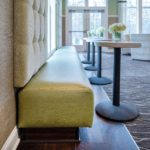 Twin custom 6-foot-high banquettes by New England Seating are distinctive. Deanna's approach to the design of custom furniture comes from a place of practicality first. "Every inch/foot matters in commercial design so if you can customize to get more space or have better flow then that is the way to go." Seating along the wall in the main dining room was the perfect spot for the banquette. The challenge was the wall also included a large window. Problem solved: twin banquettes with a split back provided maximum seating with eye-catching button-tufted upholstery framing a stunning picture window with a view of breathtaking landscape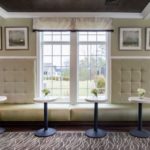 Fun Facts: If Deanna had not decided on a career in design, she would still be wowing us with her creativity in the advertising or marketing industry.
On Deanna's travel bucket list is Italy and Portugal.
Deanna's guilty pleasure is watching Bravo TVs "reality housewives"…LOL who doesn't love a little Real Housewife drama!
Thank you Deanna Lorenti! We are looking forward to working together on your next project.